Pierre Baudis Congress Centre
The Conference will take place in Toulouse at the Pierre Baudis Congress Centre located in the city center on the edge of the Compans-Caffarelli park.
Situated at 15mn from the airport and 10mn by walk from the Capitole square.
Can be easily reached by car or on foot with public transport.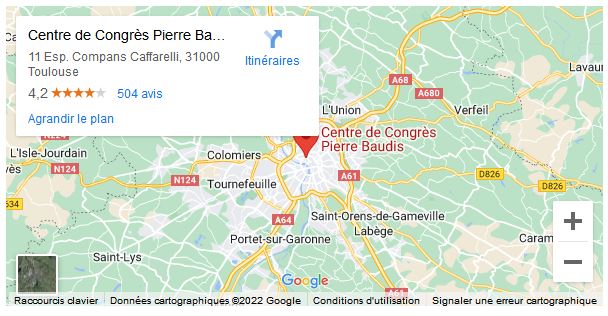 Toulouse-Blagnac airport
 It provides direct flights to 87 destinations, 73 of which are international flights. There are 72 flights a day between Toulouse and Paris (flight time: 1 hour).
Toulouse-Matabiau train station
A large number of rail links have long been running between Toulouse and other French cities (Bordeaux, Montpellier, Lourdes, Biarritz etc.) as well as Paris.

Link to Toulouse-Matabiau train station
Toulouse lies on a crossroads of many motorways: to the north, the A62 towards Bordeaux and the A20 to Paris; to the west, the A64 towards Biarritz; to the south, the A66 towards Barcelona; and to the east towards Montpellier (A61) and Albi (A68).
Geographical coordinates (GPS)
43°35'12'' degrees North- 1°29'38'' degrees East latitude
Lines 31, 45, 63, L1
and Airport Shuttles
Stop close to the Congress Centre

Link to TISSEO
Underground parking
Compans Caffarelli
Near the Palais des Congrès – 1000 spaces